5.0
PRPL Onboarding
---
5.1
Background Information
It's All About The People
A team that plays together, stays together. You'll find that our tight-knit crew partakes in its fair share of festivities: superhero movies, game nights, holiday parties, intramural sports, happy hours, and potlucks. Let's just say we enjoy each other's company. There's always something going on around here, and we encourage you to join in. Keep the PRPL Happenings Calendar open on Google so you're always in the know.
Brand Usage & Templates
We're pretty picky about our image and likeness. When the time comes for you to rep our brand via documents, presentations, and the sort, please exercise the same fastidiousness in formatting, aesthetic, and tone. Our director of creative, Sam Bork can help you with any branding needs. Use our Resource Portal for fonts, logos, and more (but you'll have to get the password from us after your first day).
Townhall
The whole team gathers for a meeting once a month to update everyone on PRPL business. Topics can include process updates, important messages, announcements, new business, or open forum discussions. Since this meeting is so chockablock with information it's super-duper essential. We give plenty of notice so you can plan everything else around it.
---
Almost done! That wasn't so bad, was it?
Hopefully you feel better acquainted with your new home and work family. And that's the goal, because something you won't find here at PRPL is coddling. Our "low-involvement, high-accountability" work style lets you do what you do best, be adventurous in your craft, and take charge of your growth track. We've found that high-performance people are habitually self-improving. We believe that's you. But of course, ask questions and share ideas along the way.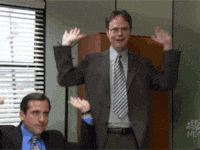 That's it!
Go explore, make good friends and rock on!